October 13, 2019
Latin America and China: Reflections on the 70th Anniversary of the PRC
---
Understanding China's past, present and future relationship with Latin America through the case study of Brazil
---
October 2019 is the 70th anniversary of the foundation of the People's Republic of China (PRC). The date is symbolic for several reasons: the regime surpassed the late Soviet Union (which lasted for 69 years) and Beijing celebrated with a display of military power and unity among rising international tensions with the United States and domestic unrest due to protests in Hong Kong. It is also an important watershed for Latin America.
Chinese trade and investment are now key for the economic recovery of the region, which is suffering the impacts of a decade of recessions and political crisis. However, China is increasingly controversial in Latin America. There are nationalistic reactions to its growing influence and diplomatic concerns about the Sino-American trade war and its impacts in the region.
Brazil is the most important case study. In November 2018, Jair Bolsonaro became the first president since the establishment of ties with the PRC in 1974 to have a hostile view of Beijing. He wants a special relationship with Donald Trump and the United States. How will that play out?
Latin America and China since the 1970s
At the beginning of the 1970s, only two Latin American countries recognized the PRC: communist Cuba and socialist Chile. The change began with the rapprochement between the United States and China. After Richard Nixon visited Beijing and discovered he could do business with Mao Zedong, the region followed quickly, with the understanding that the giant Asian nation would become an important global player.
At first, the relationship was political, not economic. The beginning of the reform era by Deng Xiaoping did not seem to offer great opportunities to the region's firms. Trade was very small until the 2000s. By then, the rising demands of China's growth led to a global commodity boom that great benefited Latin America.
In that decade, trade between the PRC and the region grew 10 times  (Evans Ellis, 2014) and Beijing became the biggest economic partner of Brazil and Chile and the second or third of Argentina, Colombia, Mexico, Perú, and Venezuela, with an exchange of US$300 billion per year (Peters, 2015). China imports from the region about 10% of its oil consumption, 1/3 of its iron ore and 60% of its soy (Gallagher, 2016: 45-47).
Chinese investment became important in Latin America just in the 2010s. The total of Chinese Foreign Direct Investment is estimated at US$105 billion, concentrated in agriculture, energy, and mining (Dollar, 2017).  The PRC is now a member of the Inter-American Development Bank and has created a forum of cooperation with the Community of Latin American and Caribbean States (CELAC, in the Spanish acronym).
Since 2017 the Chinese government is talking about making Latin America part of the Belt and Road Initiative (BRI), its global investment program in infrastructure. So far, 19 nations in the region have become part of the project, but most of them are small states in the Caribbean. The biggest country that joined the BRI is Chile. The major regional players, such as Brazil, Argentina, and Mexico, are reluctant in being part of what they perceive as a geopolitical risk to their relations with the United States.
China published two White Books on its relations with Latin America, in 2008 and 2016. In both, Beijing highlights how important trade and investment are concerning the region's commodities, but also establishes one dozen fields of cooperation in public policies, in education, health, science and technology, and defense. China created about 65 centers for the study of Latin America and it is spreading the teaching of Portuguese and Spanish at Chinese universities.[1] In contrast, there are no similar actions from the Latin American side of the partnership, with the region mostly reacting to the Chinese initiatives.
China also seeks for Latin America's support in international forums for its main strategic goals, such as the diplomatic isolation of Taiwan – about half of the States that recognized the island as an independent state are in the region, especially the small countries of Central America and the Caribbean (Roett e Paz, 2008).
However, the increasing ties with China are also creating a backslash in the region, especially concerning the risk that they can jeopardize relations with the United States. The Sino-American trade wars made many political and economic leaders in the region afraid that they will be forced to choose between one of the great powers and loose access to markets, investments, and technology.
These fears are not unreal. Washington is sometimes threatening Latin American countries with the cutting of aid and international cooperation if they accept big Chinese infrastructure projects.[2] But at the same time, the Trump administration has little to offer in terms of economic opportunities, and it is also stirring tensions regarding migrations.
The Case of Brazil
In 2018, Jair Bolsonaro became the first Brazilian president in 45 years to voice harsh criticism about China, claiming that it was "buying Brazil" and aimed at controlling its key natural resources. The Asian giant is the top national trading partner since 2009, with a bilateral foreign trade of US$100 billion in 2018. Around 25% of Brazilian exports are sold to Chinese markets, concentrated on soy, iron ore, and oil. China has US$70 billion invested in Brazil, especially on energy, agriculture, and mining.[3]
During the campaign, Bolsonaro also broke Brazilian diplomatic tradition visiting Taiwan – something that no other leader of Brazil ever did. The trip was part of an Asian tour that included Japan and South Korea and ostensibly left out the People's Republic of China. In Taipei, he praised Taiwanese society as a synthesis of the best of American and Japanese culture.
Chinese diplomats in Brazil feared that it was a sign of ending the "One China policy" that all Brazilian administrations have followed since 1974, and reacted sending a letter to all members of Brazil's Congress highlighting how important this issue is to Beijing. (Santoro, 2018).
In general lines, the diplomatic approach of Brazilian presidents towards the Chinese until then was that they are important partners, with many similar interests in global forums. China was perceived as a key player in international affairs, and Brasília should engage with Beijing to diversify its options regarding traditional allies in the Americas and Western Europe. From the 1990s, it has become also a big economic market for Brazil's exports. (Oliveira, 2004).
Will that change with Bolsonaro? The first months of his administrations showed that there is a big gap between the aggressive rhetoric against China and the pressures of important interest groups – such as agribusiness and mining – which stress the need for a good relationship with Beijing. So far, the administration's diplomacy has been mostly pragmatic, with the absence of major conflicts (Lapper, 2019).
However, some contradictions and questions are still not answered. It is not clear if Brazil is going to veto the investments of Huawei, following American positions on the trade war. The vice-president, general Hamilton Mourão, said that it will not happen. The minister of Foreign Affairs, ambassador Ernesto Araújo, claims that the matter is still under discussion. Huawei is a major telecommunication provider to Brazilian companies and the state, and it has big ambitions for the 5G Internet market in the country, which will be open to competitive bidding in 2020.
The contradictions and hesitations are part of a broader scenario in the Bolsonaro administration. The president was a backbencher member of Congress, without a strong political party or movement, who rose to power in the context of several scandals and crisis which discredited the traditional national leadership. The government is marked by the clashes among the groups that form its political base of support, such as military officers, pro-market technocrats and sectors who search for links with the American and European populist leaders (Santoro, 2019).
Conclusion
In the last 20 years, China became a major economic partner in Latin America, but its increasing presence is also provoking nationalistic reactions in countries such as Brazil, and responses from the United States. Even if Washington has not managed to formulate a coherent alternative to Beijing's investments in infrastructure, its political pressure created an environment where joining the BRI is a risky move to the biggest nations in the region.
The Sino-American trade war poses serious problems to Latin America, for it depends on both partners and usually lacks diplomatic autonomy or domestic consensus for bold moves that could exploit the opportunities of the conflict. The region is reacting to the cross-pressures, without the chance to propose something new.
The case of Brazil is an interesting illustration of the point, showing that even a president who stated a clear view on the matter is, in practice, linked to several interest groups and leading to few good options. The threat to Brazilians – and the other Latin Americans – is that the growing tensions between China and the United States will lead to more economic problems in a moment where the risk of a global recession is strong, and the region suffers from another round of instability and crisis.
Notes
[1] "Latin America needs a China strategy", Bloomberg, 12/14/2017 and "Por que a China aposta na língua portuguesa", BBC Brasil, 08/23/2017.
[2] "To Influence El Salvador, China dangled money. The US made threats". New York Times, 9/21/2019.
[3] http://www.mdic.gov.br/index.php/comercio-exterior/estatisticas-de-comercio-exterior. Access in June 2019.
Bibliography
CHINA. "China's Policy Paper on Latin America and the Caribbean". Beijing: Ministry of Foreign Affairs, 2016.
DOLLAR, David. China's Investment in Latin America. Washington: Brookings Institution, 2017.
EVAN ELLIS, Robert. China on the Ground in Latin America: challenges for the Chinese and impacts on the region. New York: Palgrave Macmillan, 2014.
GALLAGHER, Kevin. The China Triangle: Latin America´s China Boom and the Fate of the Washington Consensus. Nova York: Oxford University Press, 2016.
LAPPER, Richard. "Bolsonaro took aim at China. Then reality struck." Americas Quarterly, 2019. Volume 13, Issue 2.
LIMA, Sérgio Eduardo Moreira de. Brasil e China: 40 anos de Relações Diplomáticas. Brasília: Funag, 2016.
OLIVEIRA, Henrique. "Brasil-China: trinta anos de uma parceria estratégica." Revista Brasileira de Política Internacional, Volume 47, Issue 1.
PETERS, Enrique Dussel. China's Evolving Role in Latin America: Can It Be a Win-Win? Washington: Atlantic Council, 2015.
ROETT, Riordan e PAZ, Guadalupe (orgs). China´s Expansion in the Western Hemishphere: implications for Latin America and the United States. Brookings Institution Press: Washington, 2008.
SANTORO, Maurício. "Bolsonaro´s Diplomacy: three groups clash for foreign policy control. Brazilian Report, 04/01/2019b.
"A Gafe de Bolsonaro". O Globo, 03/14/2018.
Should Nigeria have released Boko Haram suspects?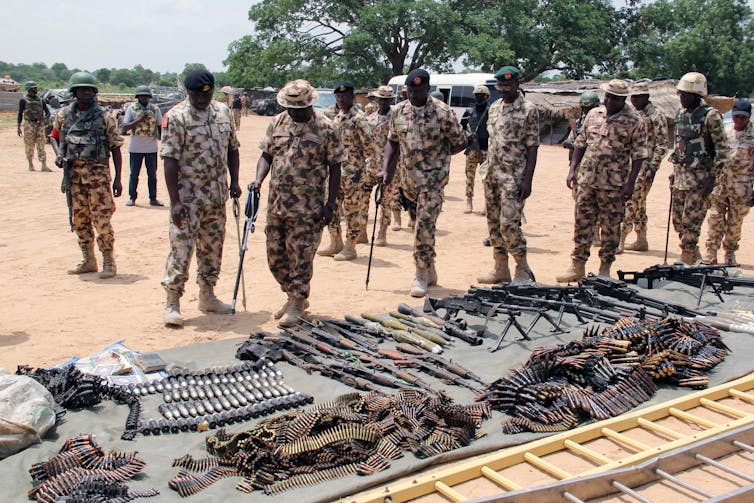 Jideofor Adibe, Nasarawa State University, Keffi
The Nigerian government recently announced that it had released about 1,400 Boko Haram suspects. The reason given was they had repented and were to be re-integrated into society. The government said the releases – which happened in three tranches – were part of its four-year old de-radicalisation programme called Operation Safe Corridor.
The announcement generated a lot of angst. Opposition leaders attacked the decision, as did soldiers fighting the terrorists.
These reactions mask a fundamental challenge facing governments in conflict situations: how does it deal with defectors? Simply executing combatants, or detaining them indefinitely, aren't viable options. De-radicalisation and re-integration programmes therefore become unavoidable.
As several commentators on the Boko Haram conflict have repeatedly maintained, such as the Carnegie Endowment for International Peace, a purely military solution won't defeat the group.
Generally 'de-radicalisation' is understood to involve having people with extreme and violent religious or political ideologies adopt more moderate and non-violent views. The approach is predicated on the assumption that terrorists, and others with extremist views, can be engaged in a way that can reduce their risk of re-offending.
But there are a number of questions that 'de-radicalisation' and 're-integration' programmes raise. These include: is it possible to screen the combatants well enough to measure what level of threat they pose? This is a problem in a country like Nigeria where the basis of selecting those who are being released isn't transparent. For example, there are allegations that criminal elements in the military have colluded with Boko Haram to secure the release of unrepentant terrorists.
Another question that's raised is: how can we ensure that the 'former terrorists', if re-integrated into the society, do not end up radicalising others in the community, or becoming spies to their former terrorist masters?
And is it fair to rehabilitate the combatants without also rehabilitating their victims?
Most countries faced with violent extremism and terrorism have adopted one form or another of de-radicalisation programmes. Whether they have worked or not is hard to judge because assessments are very often made by people responsible for the programmes. But one thing is clear: governments don't have many viable alternatives.
Nigeria's programmes
Nigeria has three main de-radicalisation programmes. One is located in Kuje prison, Abuja, and was set up by the Nigerian government in 2014. Participants are combatants convicted of violent extremist offences and inmates awaiting trial. The aim of the programme is to combat religious ideology and offer vocational training as a prelude to re-integrating them into communities.
There is also the Yellow Ribbon Initiative which is located in communities in Borno State, in the epicentre of the Boko Haram insurgency in the north of the country. This is organised by a not for profit organisation, the Neem Foundation. It was set up in 2017 and targets women, children and young people associated with Boko Haram.
The third is Operation Safe Corridor, which was set up in 2016 by the government. It targets Boko Haram combatants who have surrendered. This approach targets three key issues: religious ideology, structural or political grievances and post-conflict trauma.
The project engages Imams to work with those in the programme on religion. Participants are also offered training in rudimentary vocational skills. And they are offered therapy to overcome the trauma they faced as members of Boko Haram.
Experiences elsewhere
A wide range of countries have introduced de-radicalisation programmes.
In Africa, the four Lake Chad basin countries – Nigeria, Niger, Cameroon and Chad – have their own versions. In Somalia, the Serendi Rehabilitation Centre in Mogadishu offers support to 'low-risk' former members of Al-Shabaab.
In Northern Ireland, the Early Release Scheme ensured the conditional release of convicted terrorists under the Good Friday Agreement of 1998. It was deemed essential to sustaining the country's peace process.
In Colombia, former guerrillas who fought for the Revolutionary Armed Forces of Colombia were invited to join a peace building programme called the 'collective reincorporation'.
Do they work?
There is no consensus on what constitutes success in reforming a terrorist.
There is, however, general acceptance that a narrow focus on recidivism as the key metric has been discredited. This is because the reasons for peoples' behaviour isn't always understood. For example, re-offending could well have been stimulated by new impulses after release. On the other hand, not re-offending does not necessarily mean the person has abandoned extremist views.
There is also confusion about whether any kind of rehabilitation is necessarily brought about by the de-radicalisation programme. For example, it could be more about the desire for freedom, or to access some benefits that go with a rehabilitation programme.
Measuring success isn't easy. Official information is likely to be biased as the state and groups running programmes are wont to paint a rosy picture to justify the expenditure.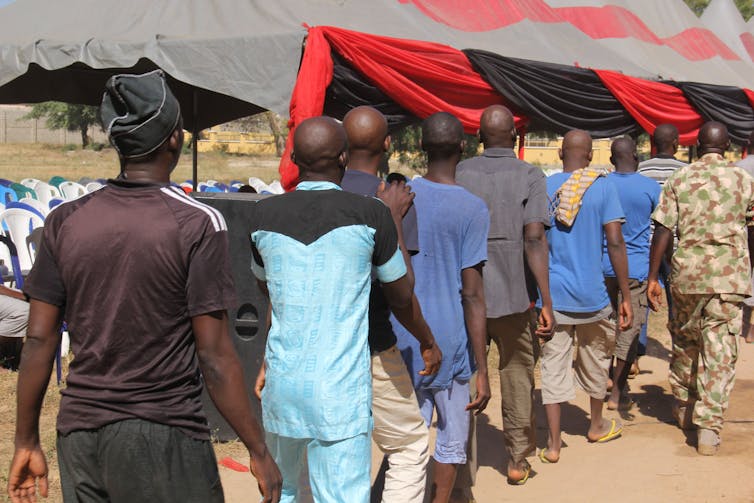 Additionally, whether a de-radicalisation programme is deemed successful or not may be subjective depending on what metrics are used. A good example is the research done for the Tony Blair Institute for Global Change. It praised Nigeria's Operation Safe Corridor to the high heavens, arguing that it was a model of rehabilitation for Africa as well as the Western world. Yet a report for the Carnegie Foundation was very critical of the programme on several grounds. This included a lack of clarity on eligibility and as well as how former combatants would be re-integrated into civilian life.
Not many options
The question often not asked about de-radicalisation programmes is: what's the alternative?
Framed this way, it's obvious that governments facing challenges of terrorism and violent extremism have virtually no other alternative.
But that shouldn't stop criticism of the way in which programmes are run. The Nigerian government's release of 1,400 former Boko Haram fighters is a case in point. It was handled badly, not least because the public was told after the event.
The timing was also inauspicious. There is currently a resurgence of attacks by the terrorist group. At the same time President Muhammadu Buhari's government is facing a declining sense of legitimacy . These factors helped harden attitudes and drove the push-back from Nigerians.

---
This article is republished from E-IR under a Creative Commons license. Read the original article.